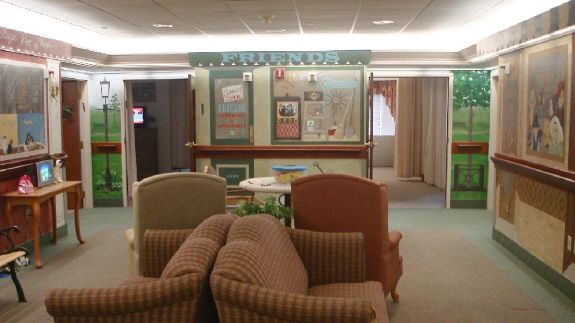 "The Town Square" is meant to encourage conversation by sparking memories
from the past. Lettuce Paint worked closely with the staff at Cedar Village to
design the images that are set in 1957. The staff organizes "shopping days"
at the town square where the residents can gather and select merchandise.
This interaction combined with the friendly backdrop has helped many
residents reclaim memories.
The project began with one family's
wish to honor their mother, Fannie.
Fannie was a holocaust survivor
who eventually ended up in
Brooklyn running a general store.
The family provided photos of the
store to Lettuce Paint. Melonie
Wright of Lettuce Paint designed the
sketches that eventually became
the Town Square Mural.
A plaque now hangs just to the
left of the store to honor Fannie.
Fannie's General Store is
located on the main focal
wall of the area and uses
the actual windows of the
nurses' station as the store
windows.
Images of exotic fish, songbirds,
cute kittens and playful puppies
remind the residents of their own
pets.




The park areas help bring the
mural around the residents' doors.
Friends Hardware and Appliance
Store was named in honor of the
"Friends" group that works closely
with the staff & residents. Nostalgic
images include the S&H Green
Stamps logo and a Radio Flyer
Wagon. Type faces and prices were
researched for accuracy.
The painted trompe l'oeil merchandise
in the window includes labels and
furnishings of the time. Look at the
Dutch Boy paint label and the dust pan,
not to mention the retro starburst clock.
The historic TV features a changeable screen. Lettuce Paint purchased
photos of television shows from the era to change the TV screen in the
mural. The photos were then laminated.
I Love Lucy
and
Superman
are only two of about a dozen programs for the residents to view.
As you look around the square,
the next store is the hat shop.
This store's architecture is inspired
by the art deco period with polished
brass geometric details.
The fashions were meticulously
researched to be historically correct.
Ethel's
Jewelry
Shoppe
is also
named after another Cedar Village resident.
This store features a painted polished wood
facade.
The painted curtain provides
a soft backdrop for the highly
detailed renderings of the jewelry.
Painted wood grain surrounds
the storage doors and helps
them blend into the background.