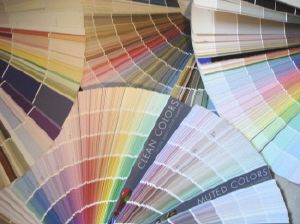 TRY OUR NEW COLOR CONSULTATION SERVICE:
We've recently added a new service for those
of you who become overwhelmed when trying
to choose a color for your walls. If you live
within 60 miles of Cincinnati, Ohio, we'll be
glad to come to your home to help choose paint
colors.

After chatting with you about your likes and
dislikes, we will take color references from your
furniture and accessories. Then we will help you choose the

perfect

wall color.

ABOUT LETTUCE PAINT:
Lettuce Paint has for over 16 years, Peggy Fleisch, is blessed to have
so many wonderful clients over the years. We work with lots of terrific designers. We've done
several Homearamas and other home shows with well-known builders in the Cincinnati area.
References are readily available on request.
Contact us today to see how Lettuce Paint, L.L.C.
can make your home more beautiful.